The towns of the Eurometropolis
Strasbourg has 32 attractive towns and villages around it; together, they form the Eurometropolis. So many treasures to discover: half-timbered houses, traditional farms, castles, fine homes, Catholic and Protestant churches, chapels, synagogues, military forts, parks, gardens, and more!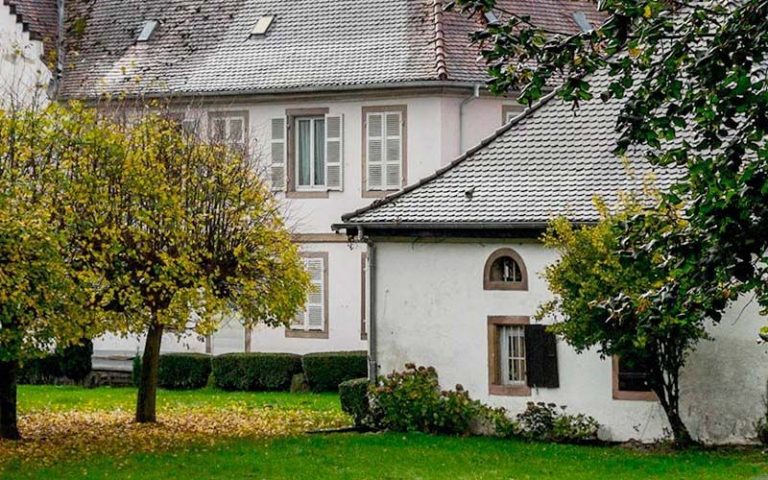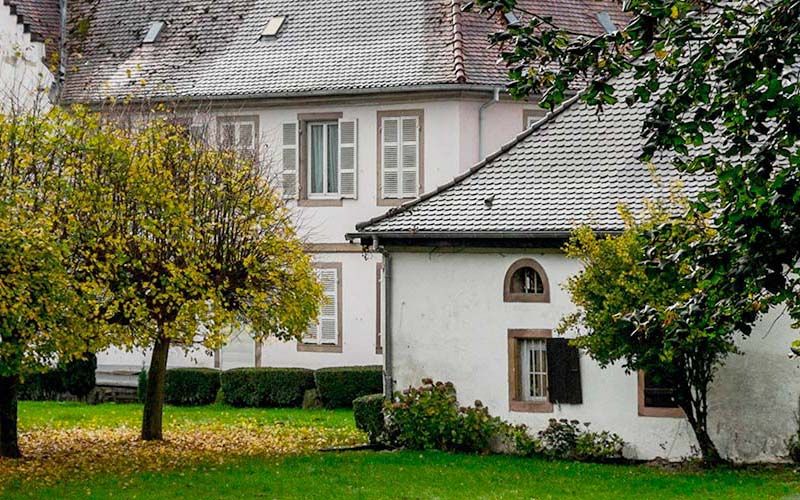 A village located 11 km west of Strasbourg, Achenheim is distinctive for its large tile factory, established in the early 19th century, a pretty farm and an Alsatian house, rebuilt using historically accurate techniques, as well as Saint Georges Church, with its Romanesque tower and neo-classical portal.
Located in the northern suburbs of Strasbourg, the city of Bischheim is closely aligned with the railways, since it has been home to a railway repair workshop since 1879. Among the heritage treasures of Bischheim are the Château de la Cour d'Angleterre, an elegant residence designed in the Classical and Baroque styles, as well as an exceptional mikveh (Jewish ritual bath). Located at the Cour des Boecklin, it can be accessed through the Musée du Bain Rituel Juif (Jewish Ritual Bath Museum).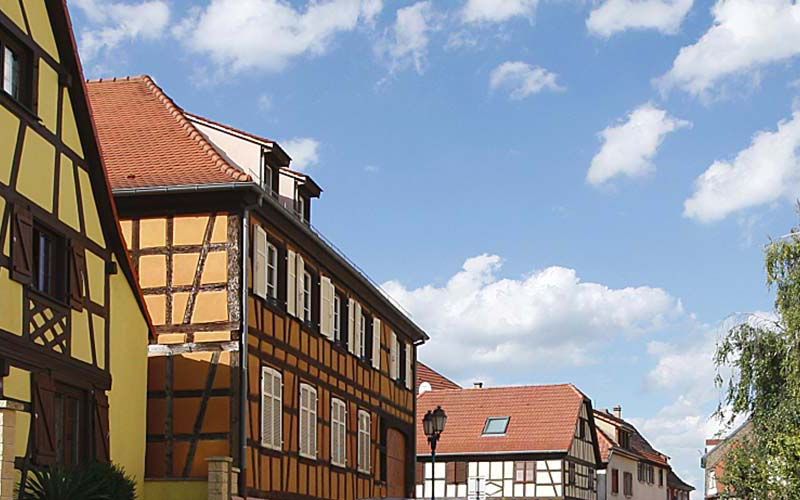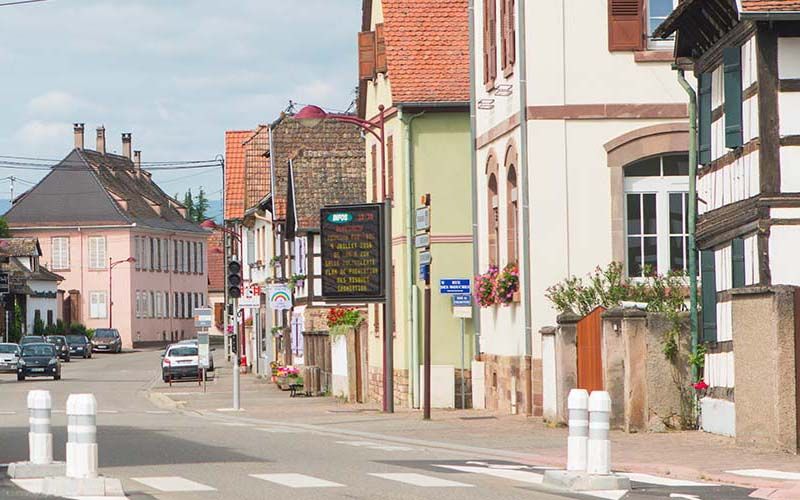 In addition to the numerous traditional restaurants lining its main street, Blaesheim first and foremost takes pride in its heritage. For example, the 11th century Gloeckelsberg Tower, the highest point of the Eurometropolis standing at 198 metres, the Napoleon Column and lots of traditional half-timbered farmhouses.
Located west of Strasbourg, Breuschwickersheim has successfully preserved its rural feel; when you cross through it you'll glimpse some charming farmhouses. If you explore the village a bit further, you'll discover a feudal castle, a flax drying house and a church with beautiful stained-glass windows.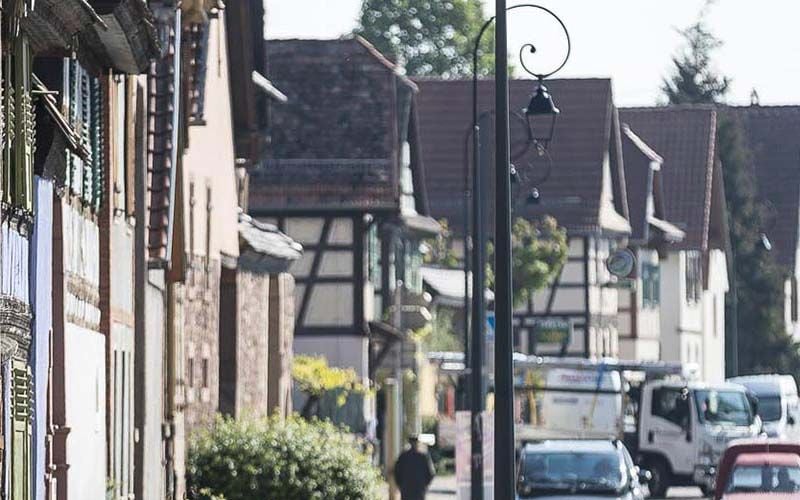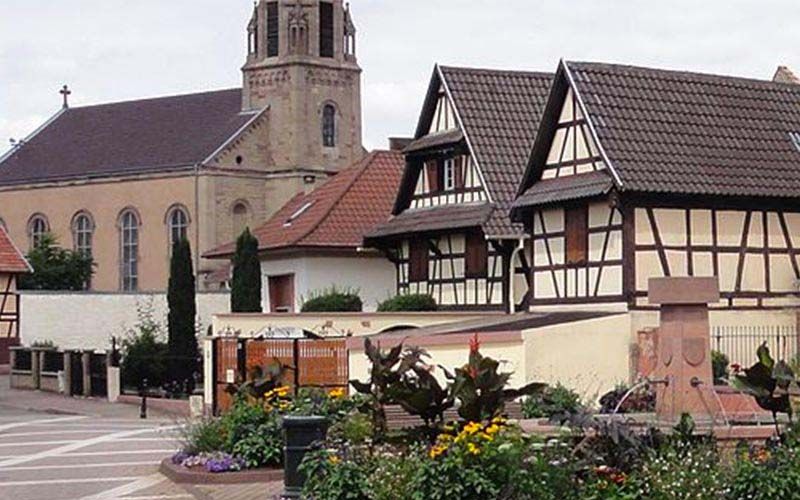 West of Strasbourg and immediately adjacent to it, Eckbolsheim is home to the Zénith Strasbourg Europe, an indoor sports arena and concert hall, the largest of its kind in France. This performance hall, which can accommodate up to 12,079 spectators, was designed by architect Massimiliano Fuksas.
In the city centre, you can see an old mill dating from the 14th century.
A charming village with old houses, located north of Strasbourg, Eckwersheim is mostly known for its horse-riding club, one of the largest in France. Horse breeding and equestrian games have been going on here since the 18th and 19th century, respectively. Races take place every Pentecost Sunday.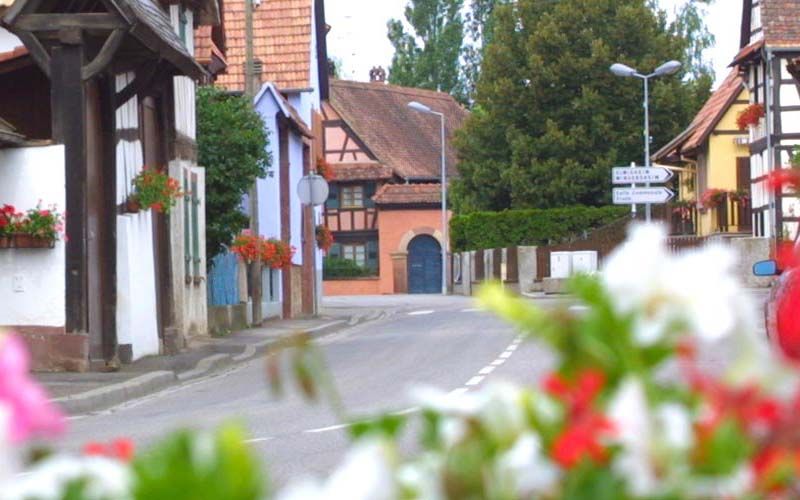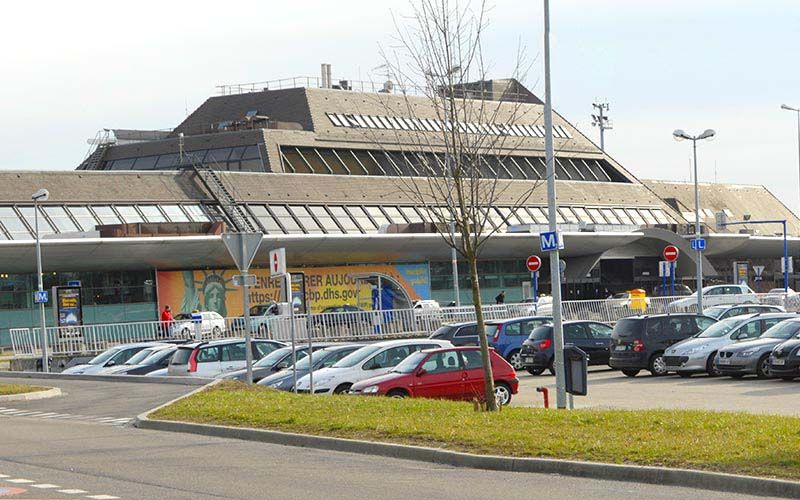 The history of the village of Entzheim, located southwest of Strasbourg, is linked to the history of a post house. This building, which was the first stop made by southbound travellers leaving Strasbourg, now houses a restaurant. In the old town centre, you can also admire a few beautiful timber-frame farmhouses.
This town, located 12 kilometres south of Strasbourg, features the Church of St. Trophime, a thousand-year-old Romanesque abbey church. Eschau was home to a Benedictine community for 7 centuries. All that remains of their abbey is the church and a monastic medicinal garden.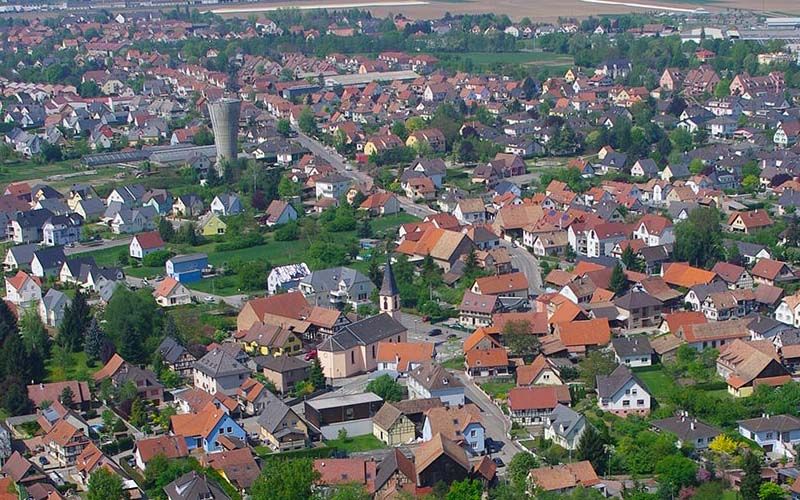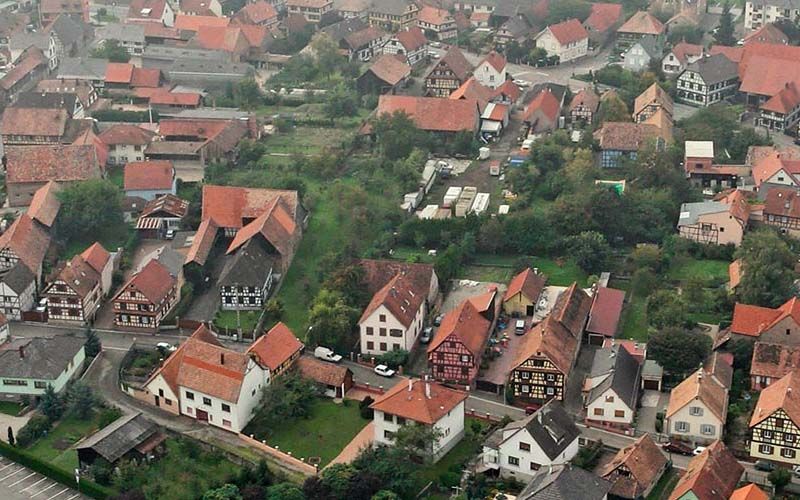 Known by locals for its industrial zone, Fegersheim, south of Strasbourg, has nevertheless preserved its heritage treasures. For example, its picturesque mill, a former inn from the 17th century, a Jewish cemetery and several remarkable Alsatian houses.
This village, located south of Strasbourg, has been successful in preserving its rural character. Here, you'll be able to admire whole streets full of timber-framed country houses. Don't miss Saint Marguerite Church, a remarkable 18th century Baroque church. Geispolsheim is also renowned for its choucroute, its Corpus Christi procession and its Chocolate Museum.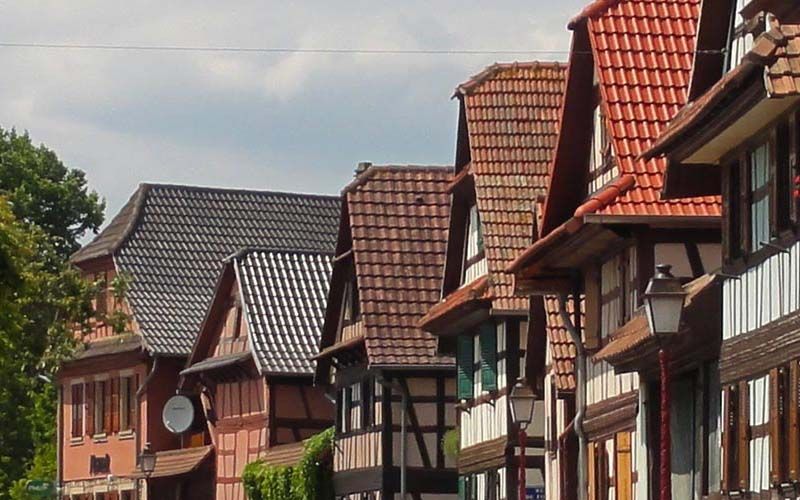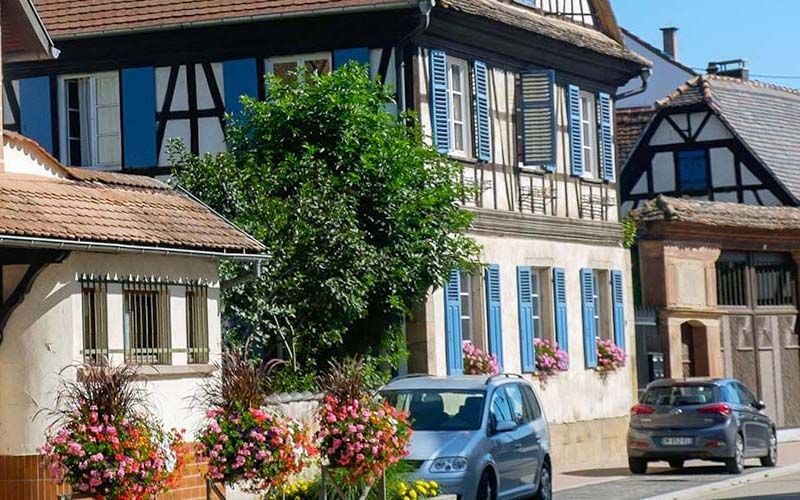 This village with 1,500 inhabitants is located 10 kilometres west of the city centre. Here, you'll find a charming 12th century church and quaint farms. The nearby Bruche Canal provides great opportunities for nature strolls.
In this town in the north suburbs of Strasbourg, you'll find the Chapel of John the Baptist (Chapelle St Jean) and its 12th century 3-storey square tower, as well as the Blue House. Listed as a historical monument, this house, circa 1746, features a mikveh (Jewish ritual bath) and a wooden staircase with balusters.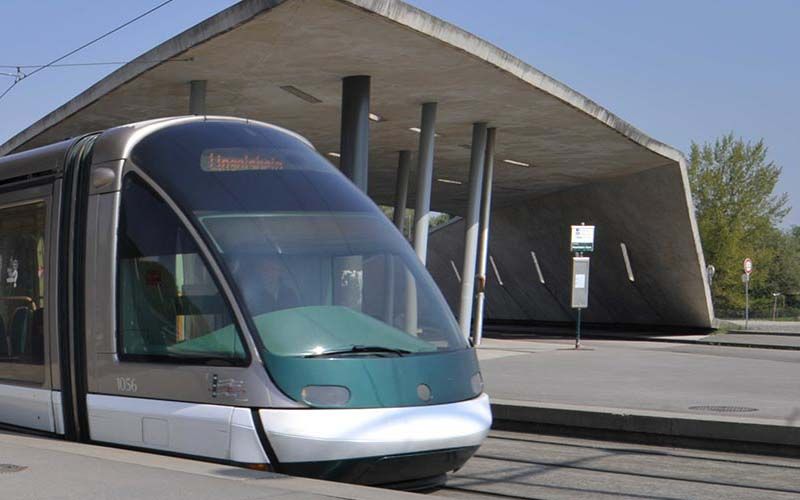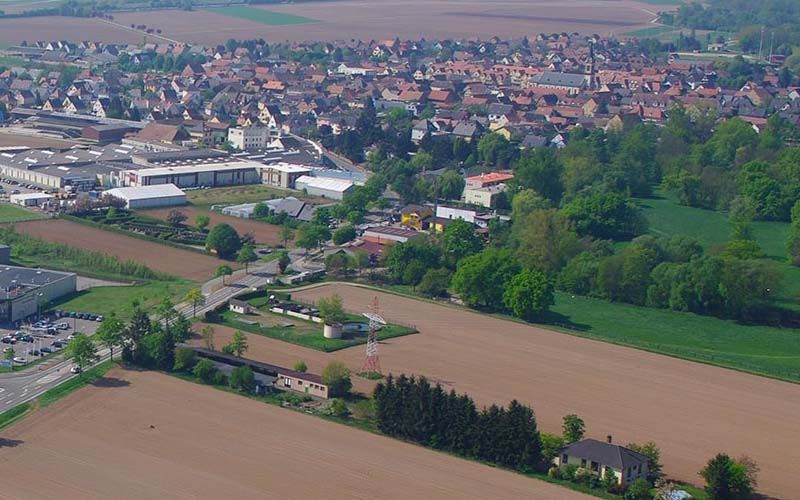 The heritage of Holtzheim, a town southwest of Strasbourg, includes several traditional farms and St Laurent Church, where you can admire the organ designed by Nicolas Boulay, the only one remaining in Alsace. There are pleasant walks to be had on the leafy banks of the Bruche.
In the 3rd-largest town of the Eurometropolis, you can see Fort Uhrich, the Protestant church with its timber-frame tower, the Orangerie of Klinglin Castle and former factories converted into shopping centres. Nature has pride of place in Illkirch, thanks in part to a large forest and the ubiquity of water, making it a prime destination for walking and swimming.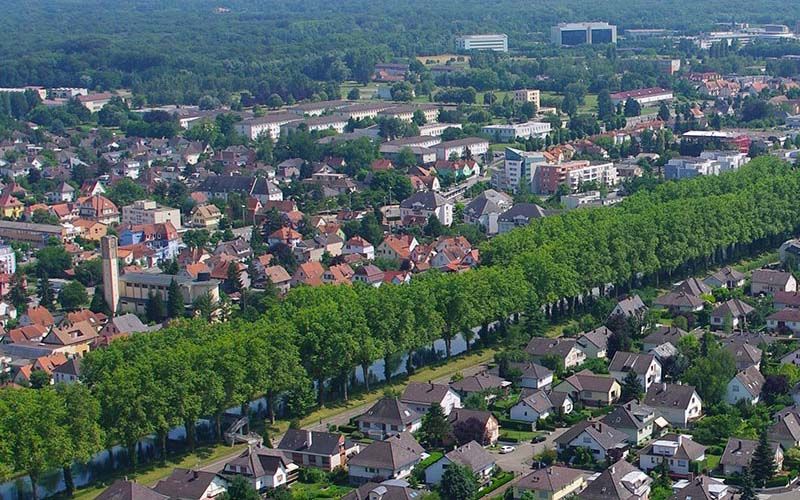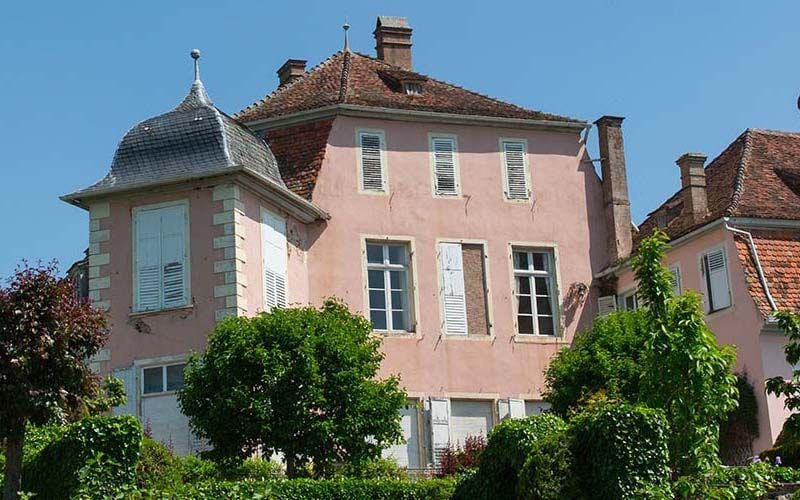 The town of Kolbsheim is renowned for its early 18th century castle, overlooking the Plain of Alsace. Its remarkable park is unique in the region, with a French formal garden with terraces as well as an English style park.
In Lampertheim, urban and rural characteristics combine harmoniously. The heritage includes many traditional half-timbered houses. The late 19th century City Hall features an oil painting on canvas of Léo Schnug, a major Alsatian illustrator from that time.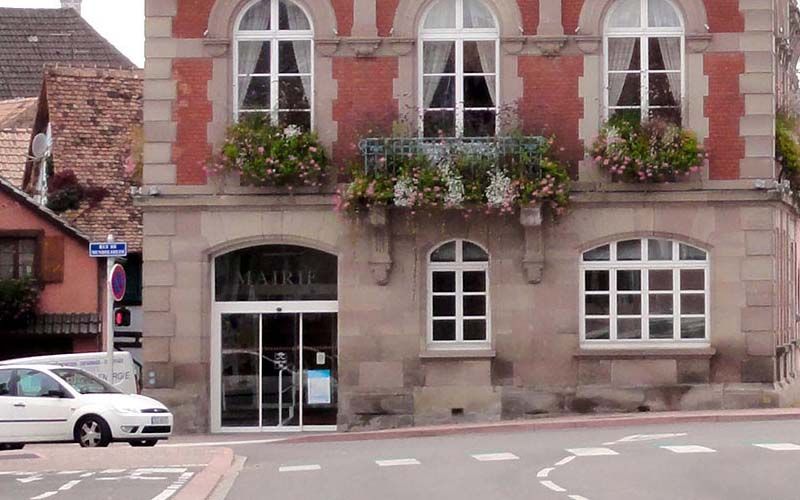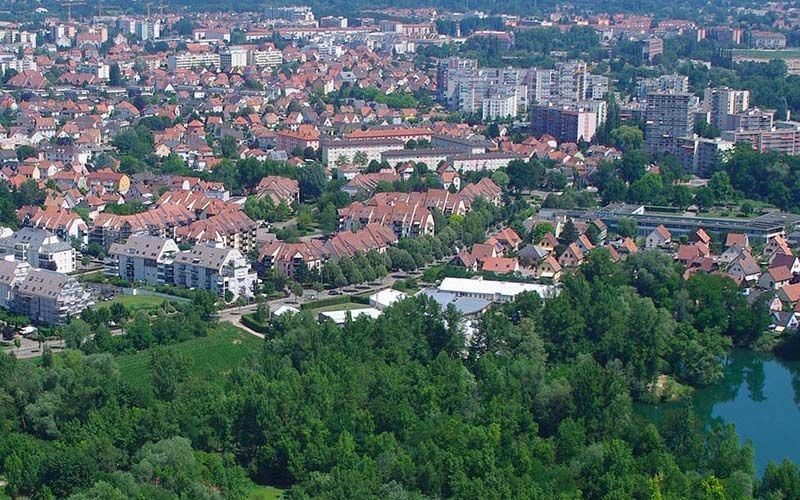 Located west of Strasbourg, Lingolsheim boasts some heritage treasures, including its City Hall, typical of early 20th century German architecture, Fort Joffre Lefebvre and Tanneries Park. This business park has preserved a few fine industrial buildings and a 48-metre-tall chimney, traces of the old tanneries from 1888.
The farming tradition of Lipsheim, a village southwest of Strasbourg, is still very visible, in particular thanks to its traditional half-timbered farmhouses. Another special feature in the village and along the country lanes: more than 9 Calvary shrines, some of which date back to the 18th century.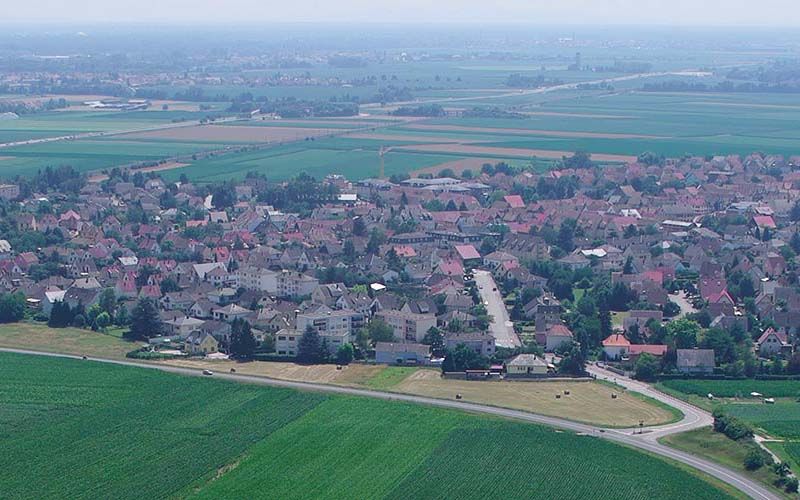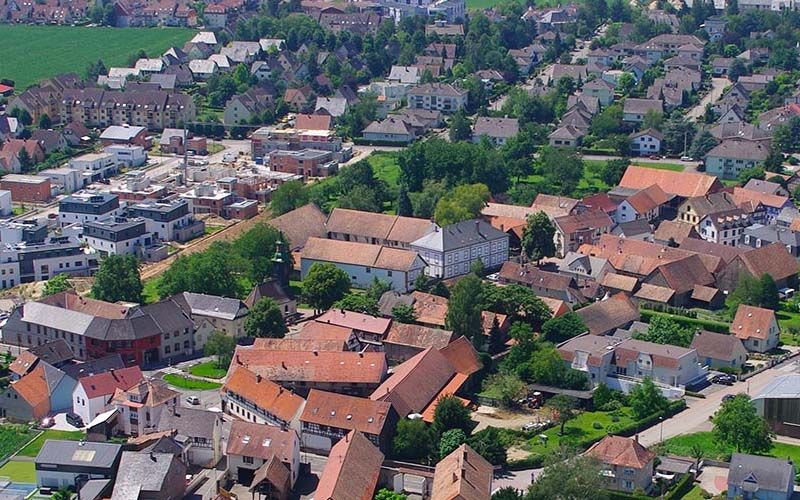 In the centre of this little town at the base of the Hausbergen Hills, there is a pretty church with an onion-dome bell tower and a roof covered with glazed green tiles, as well as fine old farmhouses. It boasts charming walking paths, including the Klamm trail, an ancient dirt pathway with steep banks on either side.
In addition to its historical centre with its fine timber-frame houses, Mundolsheim is known for having two of the military fortifications that were built by the Germans around Strasbourg: Fort Desaix and Fort Ducrot. They cannot be visited, but they can be observed from the outside, by following the Forts Trail (Piste des Forts).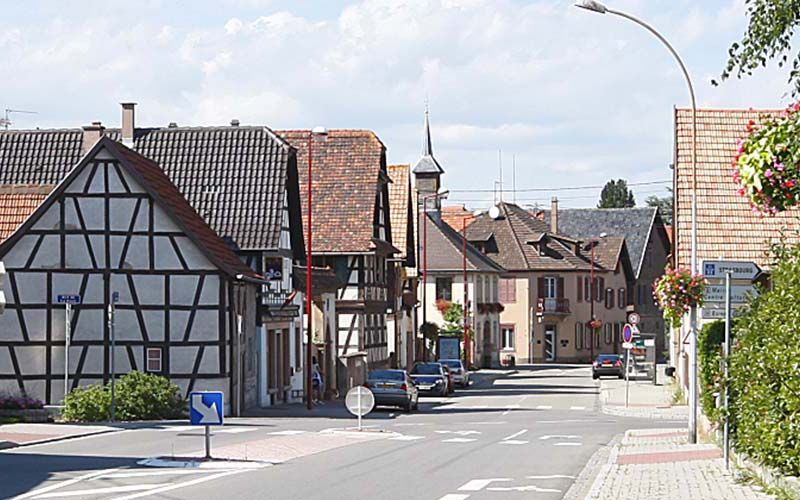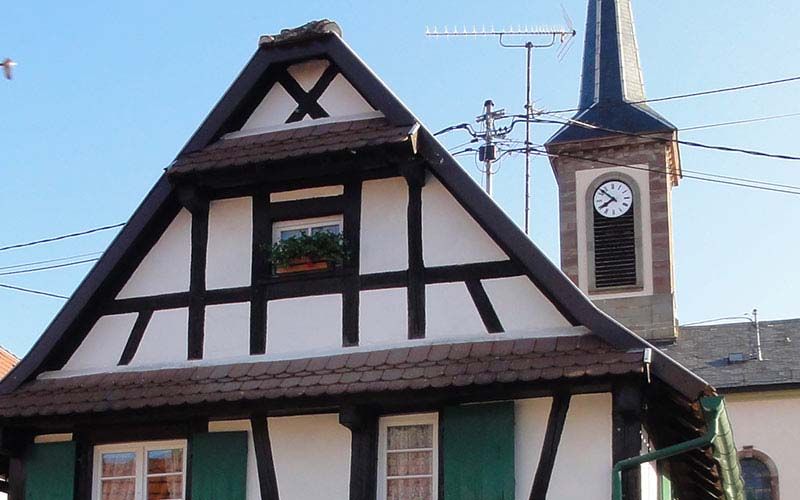 Niederhausbergen has Hausbergen Hill overlooking it; a perfect area for walking that provides panoramic views. The town is home to Fort Foch, built in the late 19th century, which served as a prison camp and an ammunition storage centre before becoming a primatology centre of the University of Strasbourg.
At the beginning of the Kochersberg area, and recognisable from afar thanks to its microwave tower, like its neighbours, Oberhausbergen benefits from its proximity to Hausbergen Hill. In particular, here you'll find Fort Frère, which was one of the key strategic military sites used to defend Strasbourg at the beginning of the 20th century. It is occasionally open for visits.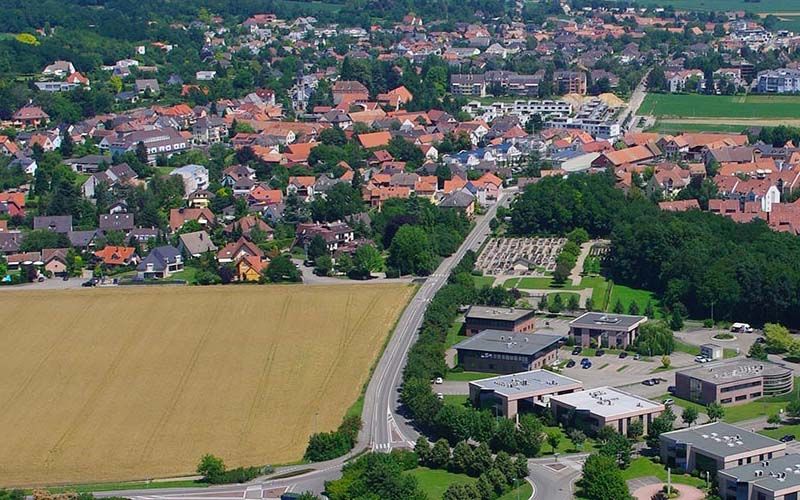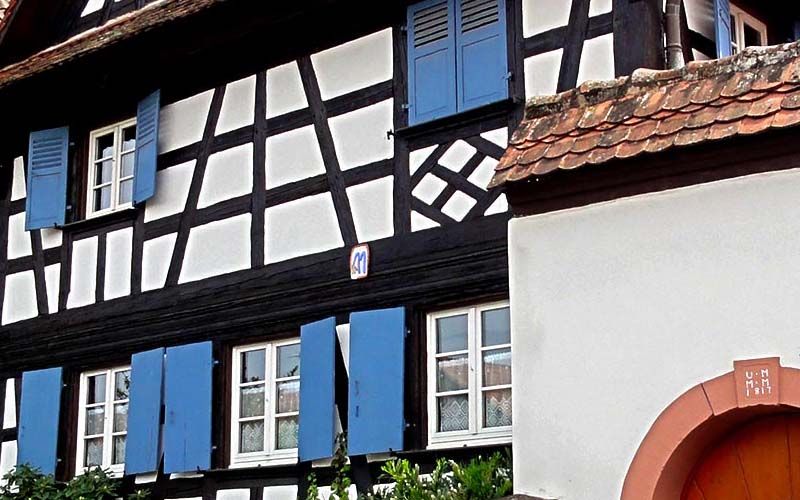 In this town, west of Strasbourg, traversed by the Bruche Canal, there are some pleasant walks to be had. Along the way, you'll glimpse a lock, as well as an old 17th century manor, surrounded by a large park. It now houses the city hall.
The first village of the "Couronne d'Or" (golden ring) on the doorstep of Strasbourg, Osthoffen stands out for its primitive, early 13th century church, but even more so for its castle. This historical monument is a 12th century fortified castle that has been embellished and transformed over the centuries.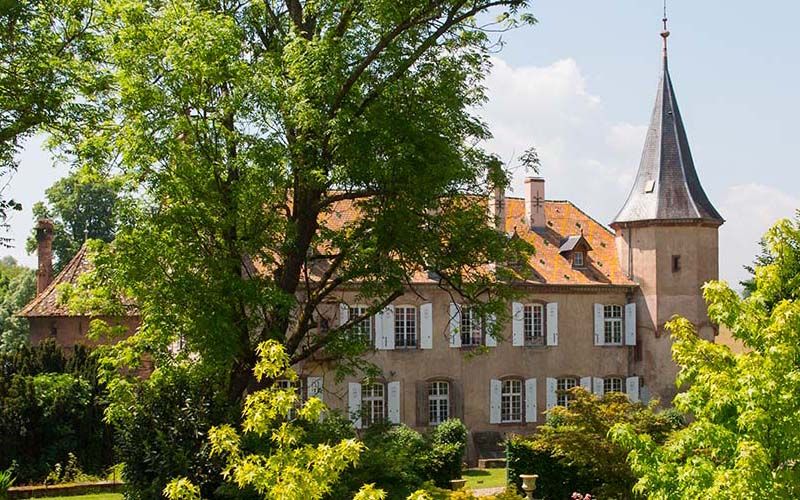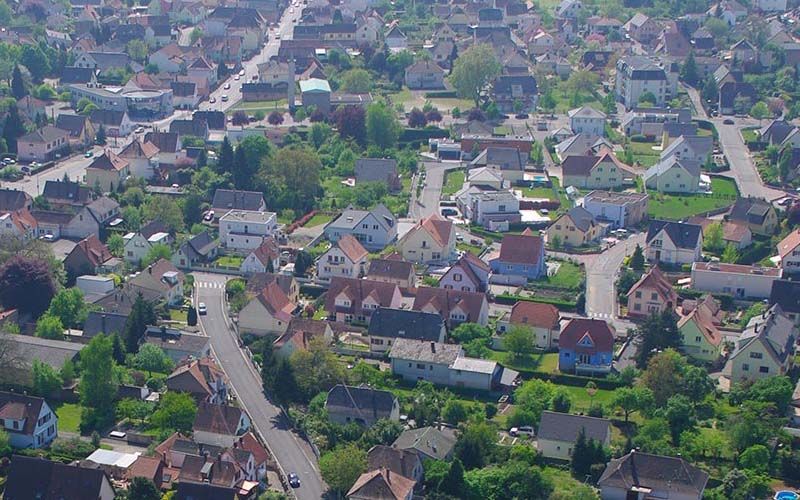 Ostwald, a small town neighbouring Strasbourg, is especially known for the Château de l'Ile. This 19th century castle, on a large estate where you can go for walks, is now a hotel and a restaurant. In Ostwald, you can also admire fine traditional houses and a Napoleon column.
Although nature is very much present in Plobsheim, this town south of Strasbourg also has fine heritage treasures as well. These include the Ecole du Château, a large residence in the Renaissance style, the Kempferhof, a 19th century home flanked by a Lombard chapel, Güntzer Manor and the night watchman's house.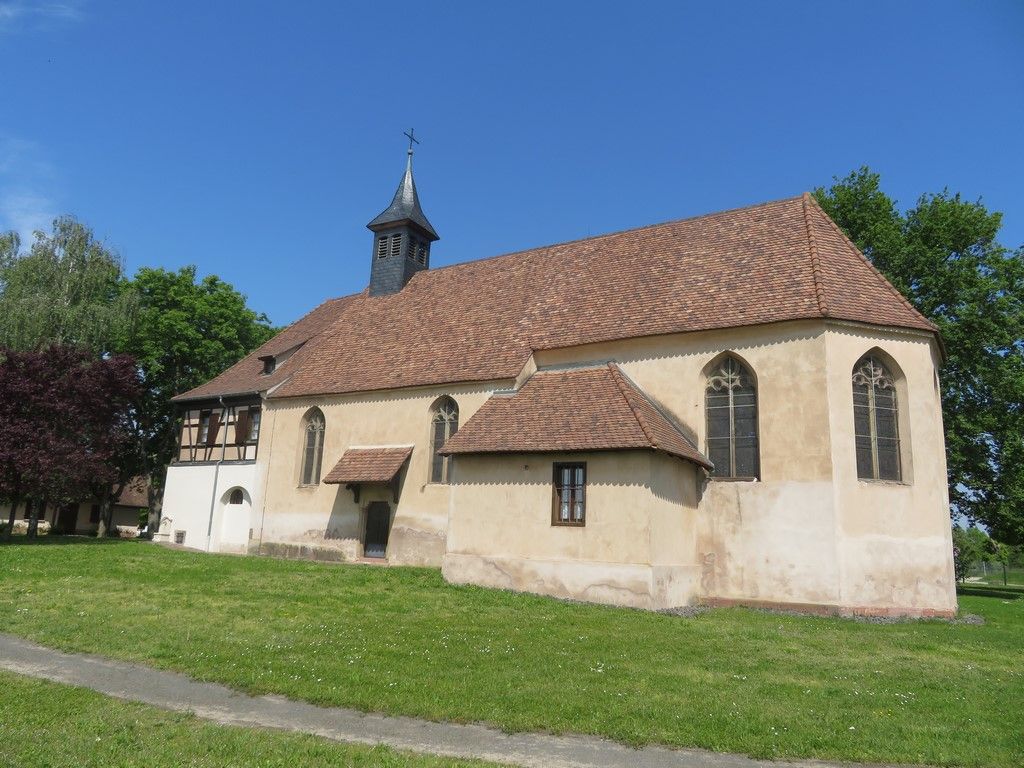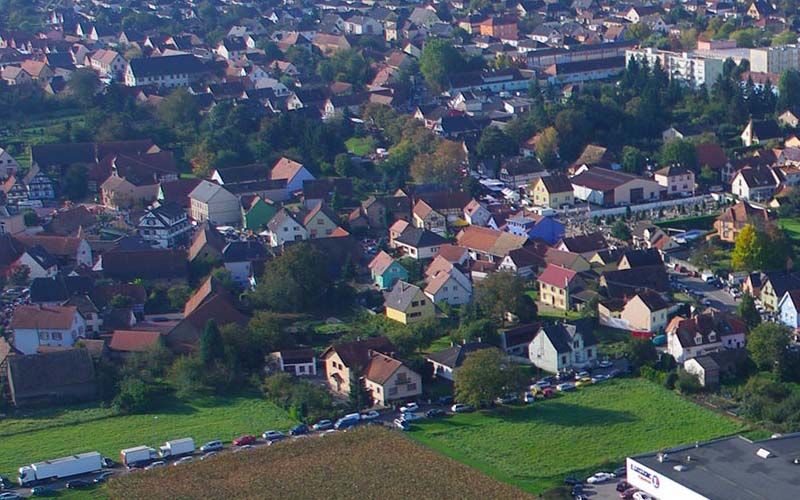 In Reichstett, officially termed a "Stork of Alsace" village, you'll undoubtedly have the opportunity to cross paths with this long-legged bird. You'll also get to see Fort Rapp, part of the ring of fortifications around Strasbourg, as well as the Parc de la Maison Alsacienne (Park of Alsatian Houses), a museum on the theme of traditional houses.
Nicknamed the city of brewers, Schiltigheim has been home to several breweries going back as far as 1850, which shaped its landscape. In addition to its industrial heritage, the city also boasts fine Art Nouveau houses and a beautiful park around Wenger-Valentin House.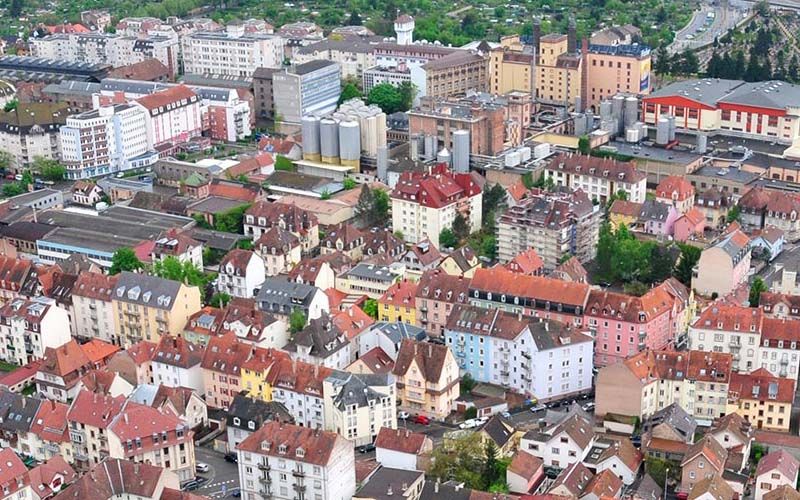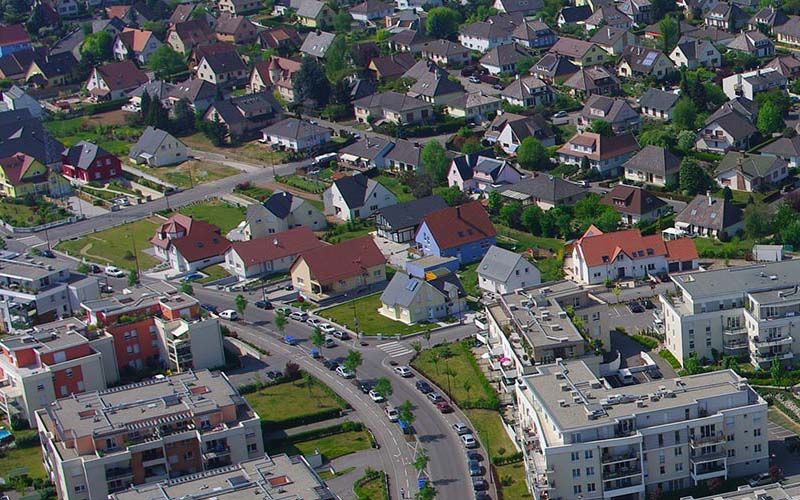 Souffelweyersheim is a multifaceted town. It has a traditional character with its timber-frame houses, but it also has a few curiosities, such as the charming Joséphine Villa, workers' houses and even a marina on the Marne-Rhine Canal.
Famous for its large shopping area, the centre of this town located north of Strasbourg is full of charm. Here, you can see old houses (some of which were built in the 16th century), a movable bridge and a castle dating from 1848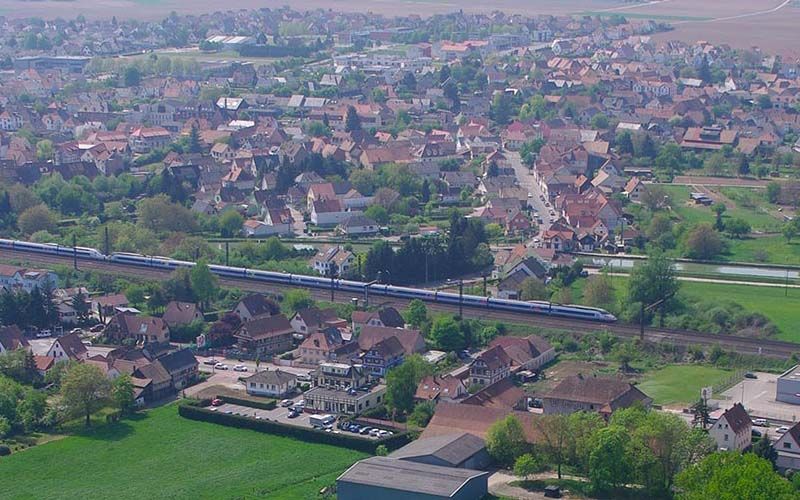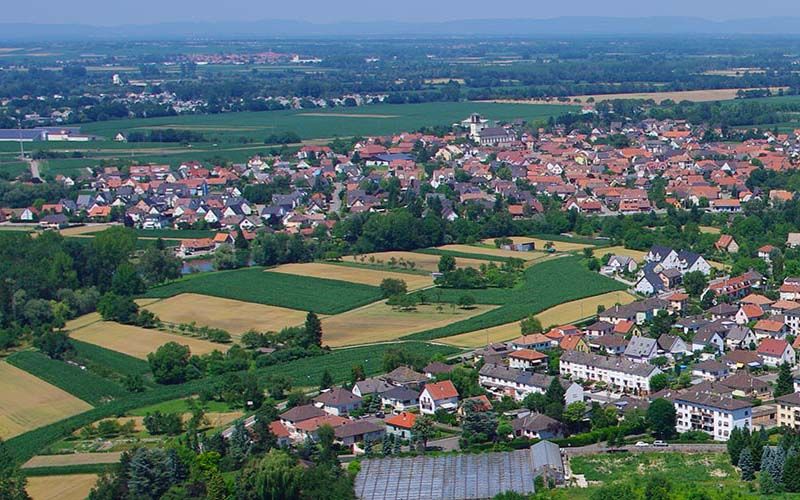 This village, located close to the Ill River and the Rhine Forest, is both charming and peaceful. With its old town centre featuring traditional houses with an architectural style typical of the Alsatian Ried, a mill, lots of nice walks in nature and plenty of good restaurants, you'll find that this village makes for a very pleasant stop.
Renowned for Fort Kléber, where the Wolfijazz Festival is held, Wolfisheim has other gems of heritage as well. For example, there's the synagogue, Wagner Farm and a lower middle class house with carved wood trim. You can also discover the charm of Wolfisheim on foot or by bike from the towpath of the Bruche Canal.