With its spire reaching a height of 142 metres, the Cathedral, with its delicate lacework of pink sandstone, stands tall over the Alsatian Plain. You'll be charmed by this masterpiece of Gothic architecture, the ultimate symbol of Strasbourg.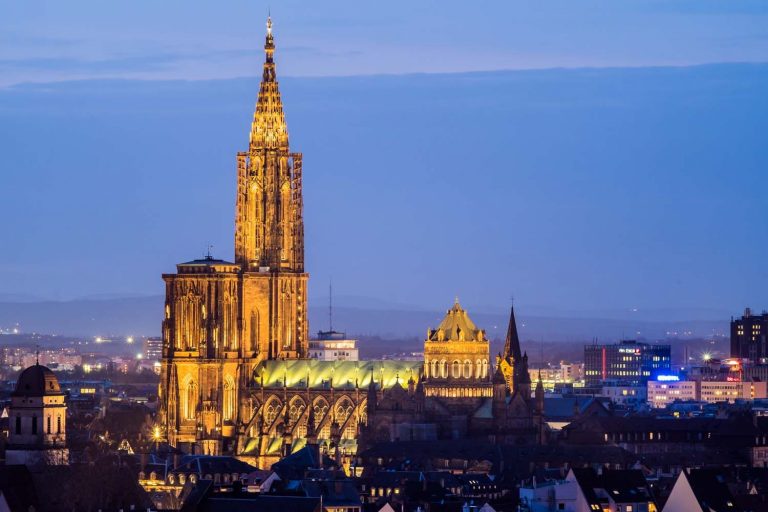 A gigantic and delicate marvel
Definitely a must-see! Strasbourg Cathedral is the symbol of the city. Constructed of pink sandstone from the Vosges Mountains, it took nearly 3 centuries of work to complete this "gigantic and delicate marvel", as Victor Hugo called it.
Take the time to marvel at the magnificent, amazing statuary inside and outside of this masterpiece of Gothic architecture.
You can also admire its remarkable stained-glass windows, including the magnificent rose window, measuring 14 metres in diameter.
You could spend hours and hours just gazing at the Cathedral's facade, with its multitude of characters. Its particularly rich statuary will tell you countless stories, if you look carefully enough.
For example, on the right portal of the main facade (the most lavishly ornamented facade) the Tempter is presented, surrounded by the Wise and Foolish Virgins. On the left portal, you'll see the Battle of Vices and Virtues. Between the two, the central portal illustrates the passion and resurrection of Christ. Continue observing from Place du Château, where you can admire the south portal, and the statues of the Church and the Synagogue in particular.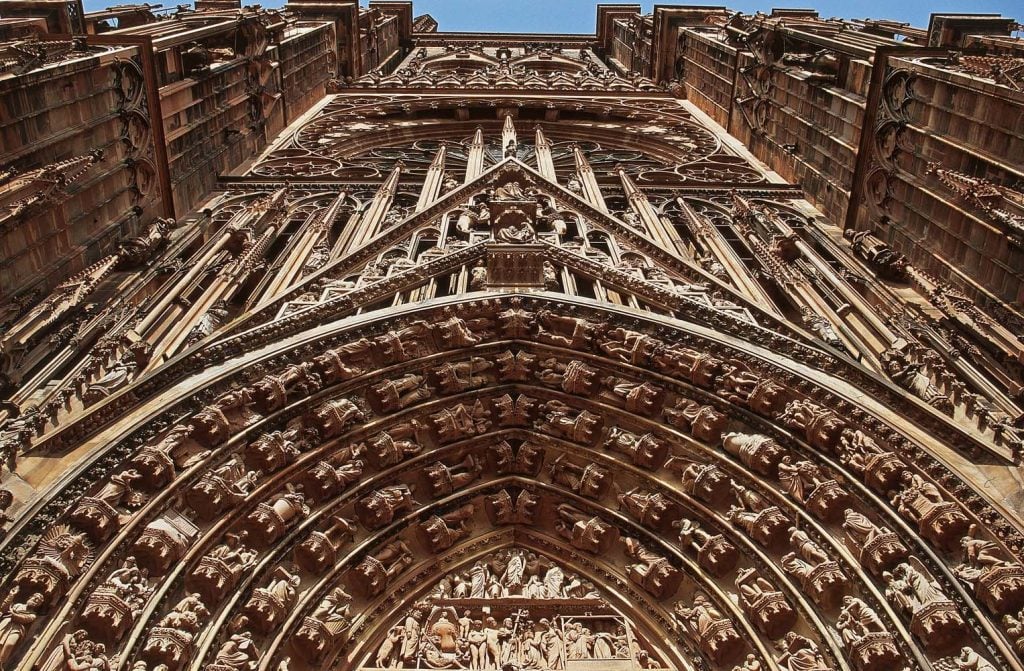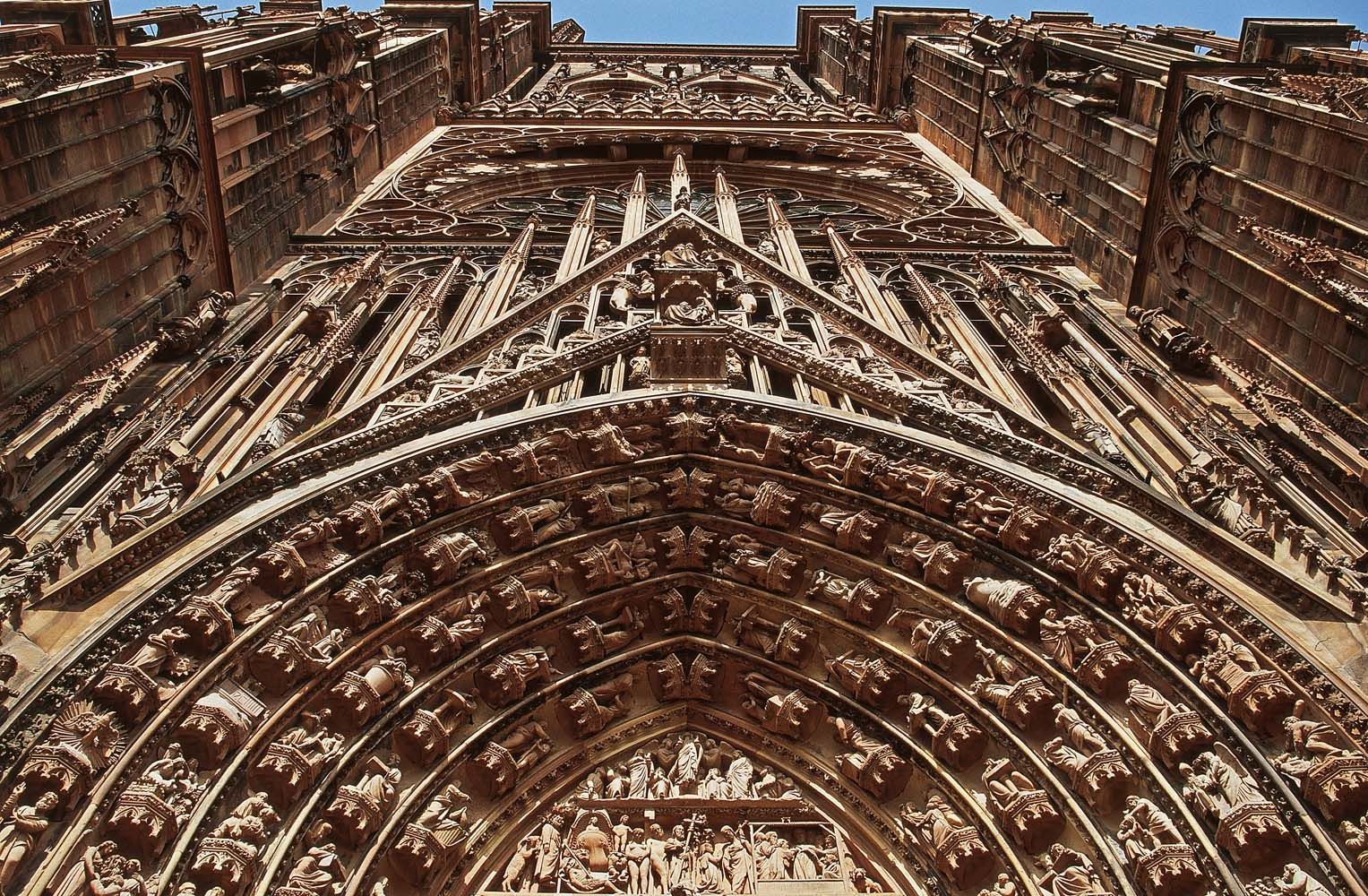 The Cathedral features numerous marvels. Among the most admired by visitors are the magnificent Pillar of Angels, which represents the Last Judgment.
And don't miss: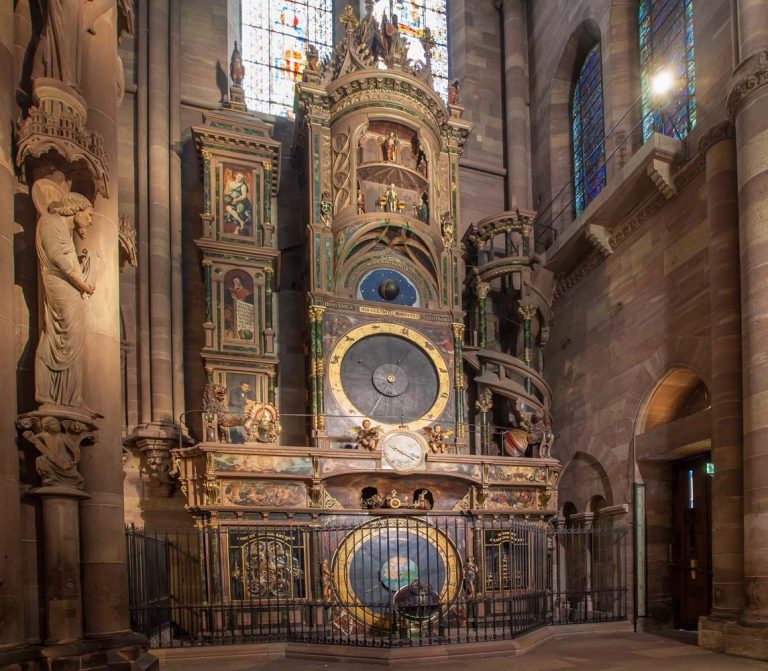 The Cathedral's astronomical clock is a curiosity, in and of itself. Built in 1574, this Renaissance masterpiece of clock making and mathematics still amazes visitors with its technological prowess and sophistication. It features a perpetual calendar, indicating the movement of the planets on an astrolabe. To enjoy an amazing experience, come to the south portal at 11:35 am (Place du Château), where you'll be able to buy your ticket to admire the animation of the figures, who are all set in motion every day at half past noon. While all of the apostles pass before Christ, saluting Him, the four ages of Life move past Death.
The platform and the guardhouse
At an altitude of 66 metres, in addition to the breathtaking views, you'll also enjoy admiring the spire from close-up, together with the Cathedral's copper rooftops. In the guardhouse, you'll find two treadwheel cranes dating to the 15th century (a system used to hoist stones) and an old clock mechanism. You can also travel through time on the platform, thanks to the VR Strasbourg Cathédrale app, which provides a panoramic view of the city in 1490 and 1730.