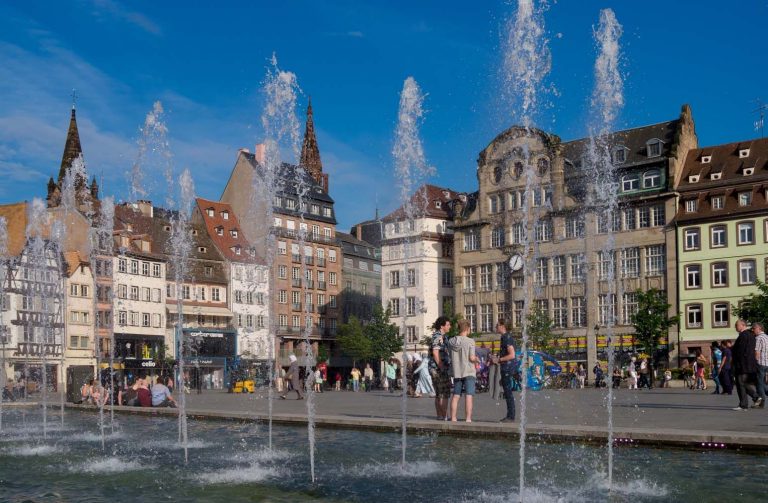 Place Kléber: the heart of the city
On one side, the square is bordered by the Aubette Building, in pink sandstone. This late 18th century military building originally housed a troop of guards. L'Aubette 1928, a former leisure complex in the building, now features contemporary shows and events. Its exceptional avant-garde decor was designed by Theo Van Doesburg, Sophie Taeuber-Arp and Jean Arp. Don't miss it!
If you take the tramway, you'll most likely come to this square, where 5 of the lines have a stop. It's a good starting point from which to reach all of the city's shopping streets. The square is covered by a glass rotunda, installed when the square was redesigned for the start-up of the tramway system in 1994. The avant-garde look that this rotunda gives the square is echoed in the futuristic pleated aluminium facade of the recently renovated Printemps department store. Look carefully and you might spot the iron man (homme de fer)!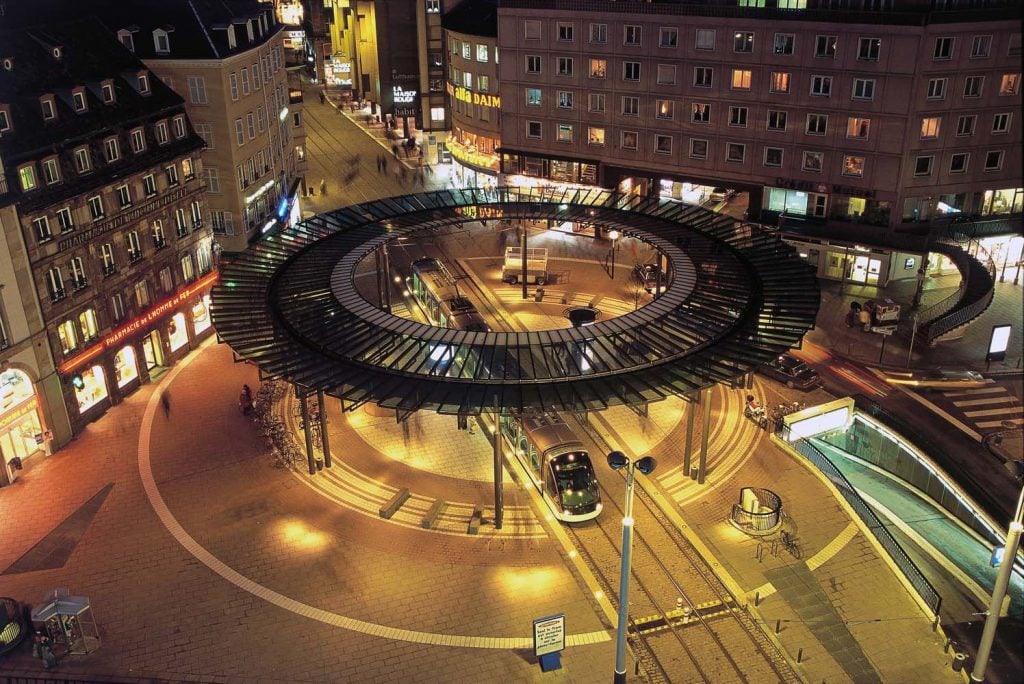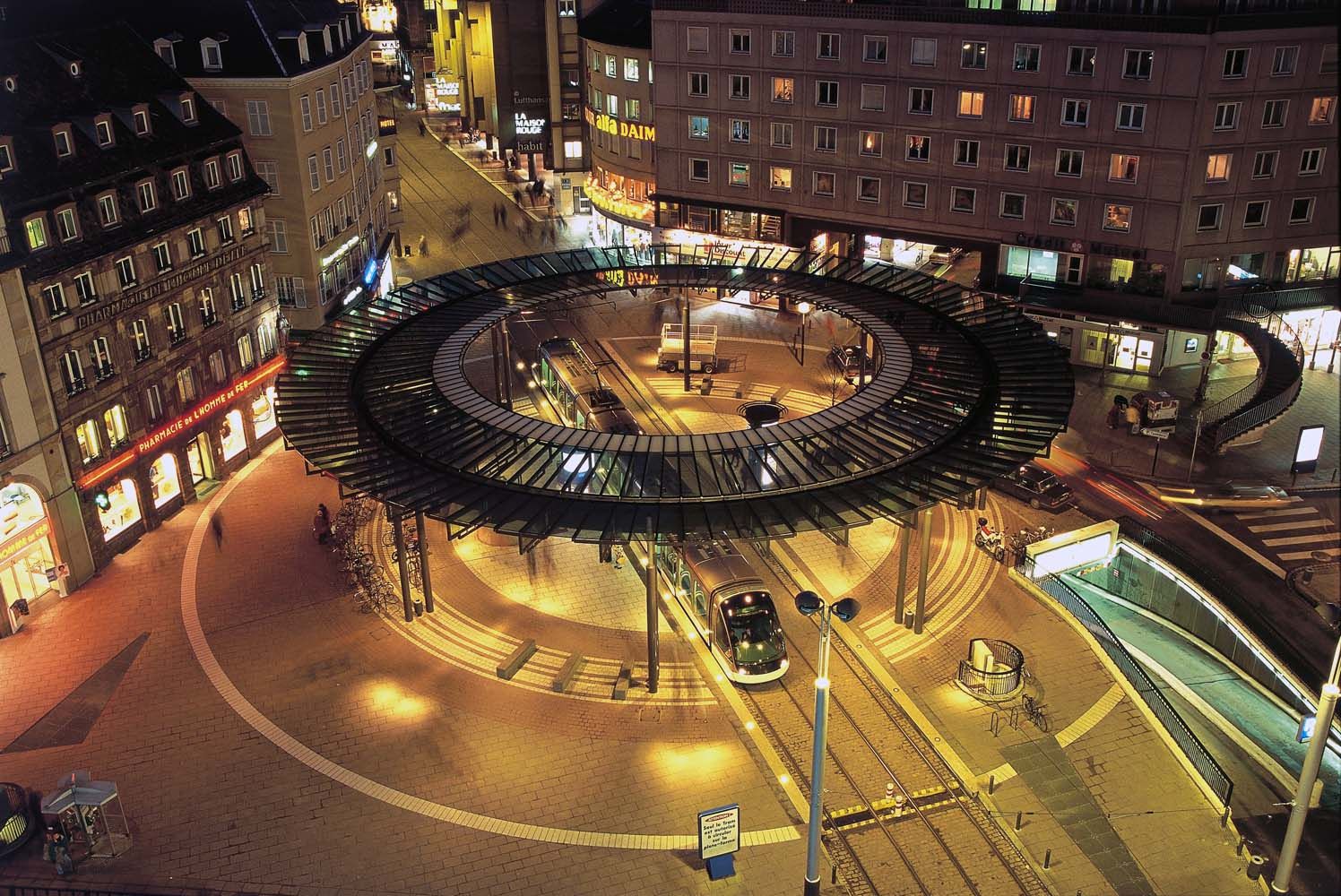 It's on this square, just about opposite the Cathedral, that the Neubau is located. This late 16th century building is now home to the Chamber of Commerce and Industry of Strasbourg. This remarkable, extremely rigorously symmetrical building was constructed in cut stone, a daring choice at the time because it was in sharp contrast with the local architectural style, which used half-timbering. It caused quite a controversy when it was built.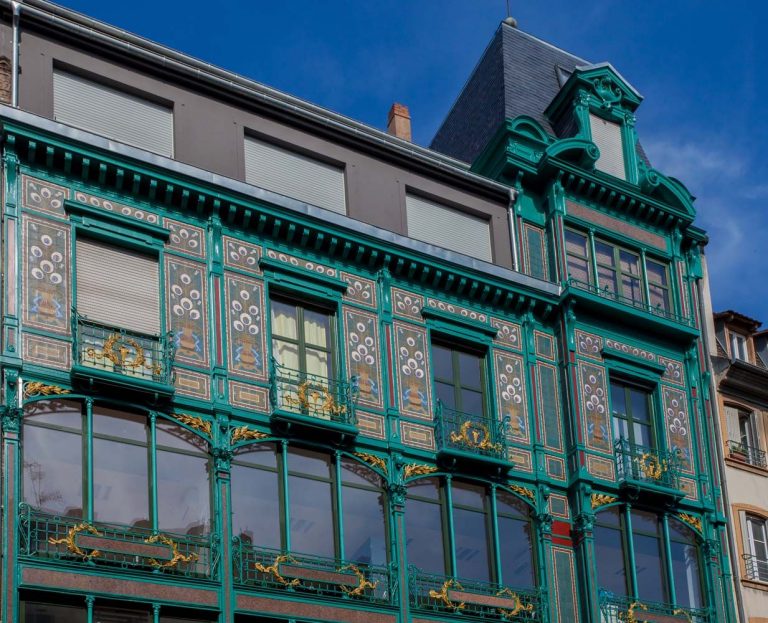 At 33 rue des Grandes Arcades…
Rue des Grandes-Arcades connects Place Gutenberg to Place Kléber. At no. 33, look up to see a superb glass-and-metal facade in the purest Art Nouveau style (late 19th, early 20th century). The building was originally home to a haberdashery. Strasbourg has had up to 700 Art Nouveau buildings. Some remain in the Neustadt quarter.
Discreet and set back from the street, this church is truly a wonder to behold; one of Strasbourg's finest churches. Historians believe that the church, which was built at the same time as the Cathedral, served as a model for it. Its portal bears a striking resemblance to those of the Cathedral. Inside, the church has much to offer, with its numerous remarkable frescoes (circa 14th century) and paintings. Its rood screen is splendid, as is its cloister, an amazing oasis of silence right at the heart of the city.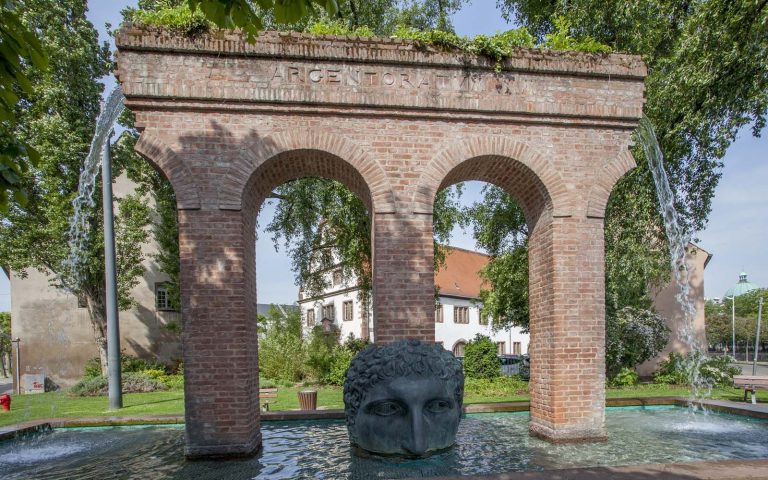 The symbolic Fountain of Janus
The fountain is located very close to the Opera House, on Place Broglie. Designed by the multifaceted Strasbourg artist Tomi Ungerer, whose talent is recognised worldwide, the fountain is in the form of an aqueduct, with water flowing on each side. In its basin, the two-faced head of the god Janus symbolises the dual identity of Strasbourg, a city that has so often been disputed by France and Germany.